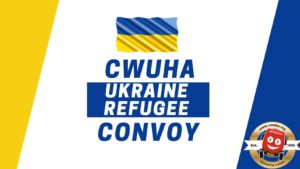 Following the decision by Russia to invade Ukraine, we quickly realised that we may need to start the process of appealing to our contacts within the CWU, wider labour movement for what would be required to assist with the relief of the many refugees.
We were also in contact with our friends at Royal Mail regarding the  use of vehicles to transport the aid to where it would be needed most. With the support of Alan Tate PEC member and our General Secretary Dave Ward we secured the use of two Royal Mail vehicles, a motor unit and trailer and a sprinter van. Our thanks also to Simon Thompson, RM CEO for responding positively to our appeal.
The CWU Branches answered the call as they always do with overwhelming generosity and the money to purchase aid was soon rolling in. On top of this we had individual members and their families collecting aid items in their workplaces and soon had more than enough aid to fill the sprinter van.
While we were in the process of locating the best place for the aid to be delivered we were contacted by Gary Williams, Branch Secretary of South West Wales Amal Branch regarding an organisation in Neath (NMCC Neath Community Group) who had a warehouse full aid and were looking for a way of getting to a Centre in Poland they were working with. So after a conversation with the NMCC lead organiser the inspirational John Williams it was decided to drive the Motor unit and trailer to Neath and load it with the aid they had collected from the local community.
When the drivers arrived at the NMCC warehouse in Neath to say they were impressed would be an understatement. They had enough aid to fill close to three Artic and Trailers. All items were boxed and manifested and our drivers didn't have to lift a finger as an army of volunteers, including Dai a postie from the Neath DO, loaded the artic full of nappies, dental aid, sanitary products, toiletries, wipes, medicines, beds, bedding, sleeping bags, shoes, clothing, PPE and baby food.
A project worker from the CWUHA charity had been putting plans in place for the vehicles to travel to a massive aid station in Poznan, Poland. The drivers were selected from a list of volunteers and a date of April 4th chosen as the day to start the journey to Poland.
Paul Moffat, convoy leader, Chris Webb, Sonya Michael and Keith Archbold were the drivers selected by the charity, and set off on April 4th 2022.
To read the full report, please click here:  CWUHA Ukrainian Refugee Convoy Report