CWUHA diverts aid and funding to UK charities and good causes
With the current situation it was decided to cancel the CWUHA 2020 and 2021 May and September convoys to Moldova and expand our projects here in the UK.
Some of the aid that was due to go to Moldova in May, which was stored at our warehouse in Leyland and consisted of hand soap, bars of soap, bleach, washing up liquid, nappies, toothbrushes and assorted toiletries was diverted to two North West foodbanks.
The first to benefit from this aid was the Blackpool Food Bank and the next organisation was the New Day Church in Lostock Hall just outside Preston.
CWUHA were able to donate some toys and games to a family unit in Blackpool that supports victims of domestic abuse and families who find themselves homeless.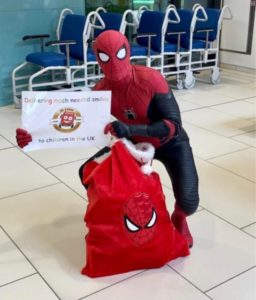 Helping a Superhero
CWUHA was very happy to help Lancashire's very own friendly neighbourhood Spiderman AKA Johnny Walker local CWU rep from Nelson DO who visited Alder Hay Children's Hospital in Liverpool in March to deliver sacks full of toys and plenty of smiles to the children being treated there.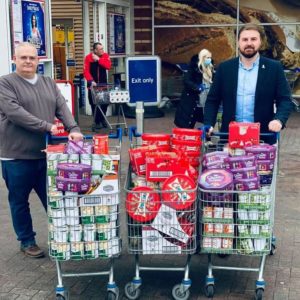 Working with Community Groups
CWUHA made a donation of food and funds to help a community group set up in the Wigan borough. Ian and Linda Young two of our most senior volunteers visited the hub.
The charity has also donated £500 worth of food to the foodbank in Blackpool, one of the most deprived towns in the UK with the highest unemployment.
The charity donated food and gifts to the community charity Little Sprouts to help the most vulnerable in the Teesside area during this difficult time and the weeks up to Christmas.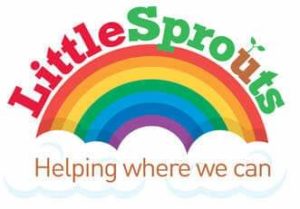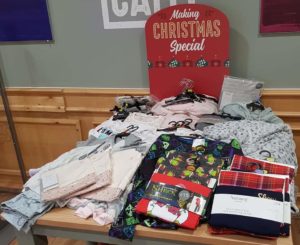 Providing families with an amazing Christmas Party, including a full Christmas Dinner and provide the children with gifts that they could all unwrap on Christmas Day.
The charity worked with a Children and Families' Emergency Housing Homeless hostel on the Fylde that supports victims of domestic abuse and families who find themselves homeless.
The charity also purchased pyjamas to support 'South Ribble Big Christmas Sleepover' an organisation that helps make Christmas Eve that little bit more special for children whose parents are facing hard times due to know fault of their own.
Supporting Appeals
Amalie's Warriors
CWUHA donated to a fantastic local cause 'Amalie's Warriors' that are raising funds for a little girl who is battling a rare illness.
Wheelchair for Brianne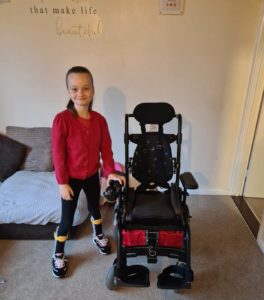 Earlier this year CWUHA were asked if we could assist in obtaining a new wheelchair for the 9 year old daughter of a serving soldier; who suffers with Freidreichs Ataxia. This is a rare illness which affects the mobility of sufferers, and can sometimes be life limiting. A new wheelchair would give her access to the outside areas, transport her to school, and allow her to meet and socialise with her friends. Due to the CoronaVirus pandemic it has taken far longer than normal to get the wheelchair made to her specifications and to be delivered to her home address in Wiltshire.
Finally the new electric chair was completed and delivered to her home during the day whilst she was at school. When she arrived home the surprise was waiting for her, and she was overjoyed riding it around the front room.
This gift, to a very special young lady, has given her the freedom to get out and about in the fresh air with her family and friends. It will also make life easier for her parents, who have struggled to get her out of the house especially during the warm weather. She now has the opportunity to go to places much farther afield than before.
CWUHA have made a welcome, and very much needed, difference to her and we all sincerely hope that she will have many hours of fun and independence using the new wheelchair.
Much more to follow…