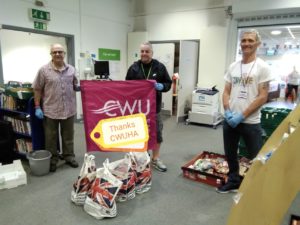 CWUHA has made a donation of food and funds to help a community group set up in the Wigan borough. Ian and Linda Young two of our most senior volunteers visited and delivered the food to the hub meeting up with CWU member Cllr Paul Blay.
The group 'The Hindley & Hindley Green SDF Hub' was set up by local community group volunteers and councillors when they realised how serious the COVID- 19 was going to be.
They realised at an early stage what a major impact COVID-19 could have on residents and how it was going to affect their daily lives.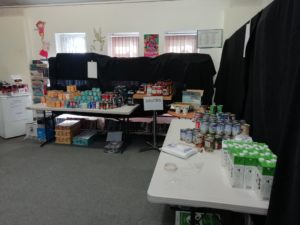 The group cover four towns Hindley, Hindley Green, Platt Bridge and Ince, with approximately 100,000 people.
The hub is run with approximately 15 volunteers working at any one time. The aim is to provide free food to people who are self-isolating and have no family or friends to assist them. We also provide free food for people who have found themselves in financial difficulties because of the virus.
Two kitchens are running at the hub on a daily basis, these have provided approximately 2000 warm meals in the last four weeks. Every food hamper is delivered direct to the residents addresses by our volunteers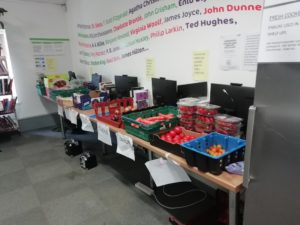 The hub has also recently set up a shopping scheme where volunteers are allowed into Tesco at 7am to pick orders. The orders are phoned in by the public the previous day to picking, and once picked are delivered to the resident, where payment is then received electronically.
As well as providing food the hub is concentrating on the social effect the virus is having on people. They have set up a call service where they call or skype vulnerable residents every three days to see if they are ok and just to have a chat.
If you would like more information on the 'The Hindley & Hindley Green SDF Hub', please contact Cllr Paul Blay – p.blay@wigan.gov.uk