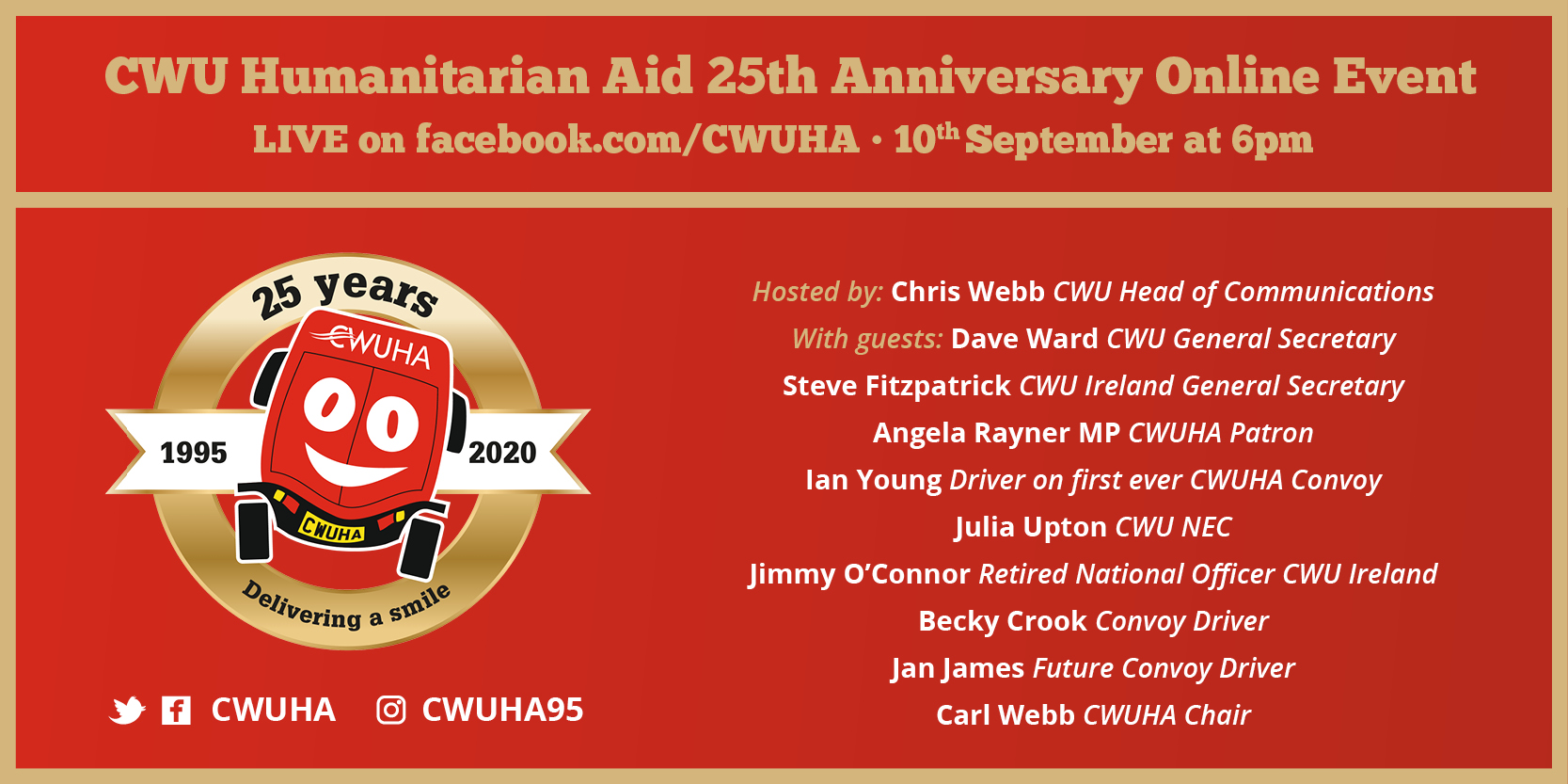 This year is CWU Humanitarian Aid's 25th Anniversary and to mark this important milestone the charity held an online event on Thursday 10th September 2020 at 6pm to 7.15pm.
The line-up of speakers, included Dave Ward, CWU General Secretary, Angela Rayner MP and volunteers who spoke about their involvement and experiences working with the charity.
As well as the speakers, they showed videos from their supported school in Africa and from Victoria Dunford, CEO and founder of Mad-Aid.
The full line up of guest speakers were:
Dave Ward, CWU General Secretary
Angela Rayner MP, Deputy Leader of the Labour Party and new CWUHA patron
Steve Fitzpatrick, CWU Ireland, General Secretary
Julia Upton, CWU NEC
Jan James, CWU Branch Official (New Convoy Driver)
Jimmy O'Connor, CWU Ireland Trustee
Becky Crook, CWUHA Trustee
Ian Young, CWUHA Trustee
To watch the video of the livestream and the other videos that were shown please click on the links below to take you to CWUHA's YouTube Channel.
Livestream of the CWUHA 25th anniversary event.
Ian Young gives a brief first-hand account of the very first CWUHA convoy.
Victoria Dunford, CEO and founder of Mad-Aid talks about the partnership between CWUHA and Mad-Aid.
Once you have watched the videos please subscribe to the channel and turn on notifications to be updated on all the new videos from CWUHA.
Posted: 21st September 2020