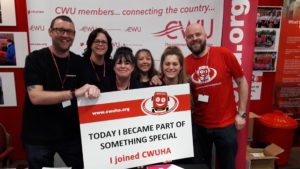 Branch/Regional Affiliation
If your branch would like to affiliate then that would make you one amazing bunch of people! You would pay an  annual affiliation fee based on the number of members there are in your branch. This kind of commitment and indeed the commitment shown to do any of the above, means so much to us and puts a smile on a child's face that you've enabled us to help.
To stop us pestering you every year, you may wish to consider the option of setting up a direct debit.
Download our branch/regional affiliation form either as a Word Document or a PDF


Individual Affiliation
If you would like to become an affiliated member and make regular donation that would be absolutely fantastic. If we could ask you to complete and return the standing order mandate form below please.
If you pay income tax, don't forget to complete the Gift Aid section. It will not cost you a penny – but CWUHA will receive an extra 25p for every pound you donate from the government.
Download our Individual Affiliation Standing Order Form as a  Word Document or a PDF
Couldn't I just make a one-off donation?
You certainly could and that would be absolutely fantastic of you! We know that not everyone has the time or perhaps the inclination for all the potential pain and mess of the above option, so if you'd like to simply make a donation, we would be very grateful indeed. Just click here.