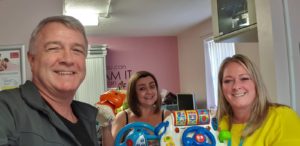 'Thanks to the efforts of Pete O'Hanlon, Branch Chair Lancs & Cumbria branch, CWUHA were able to donate some toys and games to a family unit in Blackpool that supports victims of domestic abuse and families who find themselves homeless. Some of these families are also in self isolation.
Pete said "I would like to thank CWUHA for their kind donation, the staff and families were made up and I look forward to working with CWUHA to help more families during this difficult time"
As you can imagine, there are young children who are stuck indoors or live in hostels who need to play and be stimulated. So CWUHA and CWU branches are launching an appeal in the North West to deliver toys Jigsaws, games, lego, anything you think would occupy the children in family centres and hostels across the North West.
If you have any games, jigsaws or toys etc that are in good condition and would like to them go to a good home, please contact CWUHA by emailing cwuhacommunications@gmail.com
Feel free to pass the appeal on to anyone who can help. Thanks.